Digitalización de los procesos contables y administrativos en las pymes españolas. Un caso de estudio
Palabras clave:
digitalización, tecnología, procesos financieros, contabilidad, proyecto, ERP
Resumen
Los cambios tecnológicos han estado siempre presentes en los mercados e industrias, proporcionando ventajas competitivas para los primeros que las adoptan. Sin embargo, la velocidad de generación de nuevas herramientas digitales en los últimos años ha propiciado que sea una cuestión de necesidad que las empresas las adopten. La función financiera de las empresas se encuentra en un proceso de adaptación y diseño de su futuro, debido al impacto masivo que la digitalización trae a sus organizaciones.
Lo que se denomina la «tercera ola de avances tecnológicos» o simplemente «digitalización» está afectando de manera directa a la forma en la que las empresas organizan sus procesos y actividades. Siendo la contabilidad una parte fundamental de los sistemas de información, su adaptación a las nuevas tecnologías difumina sus límites tradicionales. El estudio del impacto en las pymes y sus resultados genera un atractivo interesante y poco estudiado.
El objetivo del artículo es analizar el impacto en una pyme española de la implantación de herramientas digitales disponibles en la función financiera: ERP (enterprise resource planning) para la gestión integrada de los negocios, CRM (customer relationship management) adaptado a la solución web de la empresa y computación en la nube (cloud computing).
Con base en la experiencia profesional y académica de los investigadores, se evalúa una pyme española líder en su sector, lo cual permitirá responder a los aspectos anteriores y extraer conclusiones que podrán ser relevantes para la implantación de soluciones digitales en otras empresas en el futuro.
Descargas
Los datos de descargas todavía no están disponibles.
Citas
Accountancy Europe. (2021). SME's Digital Future. Briefing paper, 8.
Adigital. (2021). Economía digital en España. https://www.adigital.org/economia-digital-en-espana/
Ahmad, M. y Pinedo Cuenca, R. (2013). Critical success factors for ERP implementation in SMEs. Robotics and Computer-Integrated Manufacturing, 29, 104-111.
Appelbaum, D., Kogan, A., Vasarhelyi, M. y Yan, Z. (2017). Impact of business analytics and enterprise systems on managerial accounting. International Journal of Accounting Information Systems, 25, 29-44.
Aramburu, N., North, K., Zubillaga, A. y Salmador, M. (2021). A Digital Capabilities Dataset From Small- and Medium-Sized Enterprises in the Basque Country (Spain). Front Psychol.
Cong Y., Du, H. y Vasarhelyi, M. (2019). Technological Disruption in Accounting and Auditing. Journal of emerging technologies in Accounting, 15(2), 1-10.
Cotec. (2021). Cotec. https://cotec.es/
Datos.gob.es. (2021). Nuevos informes sobre transformación digital en España. https://datos.gob.es/es/noticia/nuevos-informes-sobre-transformacion-digital-en-espana
Deep, A., Guttridge, P., Dani, S. y Burns, N. (2008). Investigating factors affecting ERP selection in made-to-order SME sector. Journal of Manufacturing Technology, 19(4), 430-446.
Deloitte. (2019). Chatbots: Riding the next-gen technology wave to operational success. https://www2.deloitte.com/content/dam/Deloitte/in/Documents/technology-media-telecommunications/in-tmt-chatboats-noexp.pdf
Digital Innovation Hubs Working Group. (2018). Report from the Working Group Meeting on Access to Finance. https://ec.europa.eu/futurium/en/system/files/ged/dihs_access_to_finance_report_final.pdf
Dirce. (2020). Retrato de la pyme. http://www.ipyme.org/Publicaciones/Retrato-PYME-DIRCE-1-enero-2020.pdf
European Commission. (2018). Digital Transformation Scoreboard 2018: Evidence of Positive Outcomes and Current Opportunities for EU Businesses. https://ec.europa.eu/growth/tools-databases/dem/monitor/scoreboard
Garzoni, A., de Turi, I., Secundo, G. y del Vecchio, P. (2020). Fostering digital transformation of SMEs: a four levels approach. Managerial Decisions, 58, 1.543-1.562.
Gulin, D., Hladika, M. y Valenta, I. (2019). Digitalization and the Challenges for the Accounting Profession. Croacia. Proceedings of the ENTRENOVA.
Knudsen, D. (2020). Elusive boundaries, power relations, and knowledge production: A systematic review of the literature on digitalization in accounting. International Journal of Accounting Information Systems, 36.
KPMG. (2020). Digitalisation in accounting, 2020. https://home.kpmg/content/dam/kpmg/de/pdf/Themen/2020/12/kpmg-infographic-digitalisation-in-accounting-2020.pdf
Marcysiak, A. y Pleskacz, Ż. (2021). Determinants of digitization in SMEs. Entrepreneurship and Sustainability Issues, 9(1), 300-318.
Matt, C., Hess, T. y Benlian, A. (2015). Di-gital transformation strategies. Business information systems engineering, 57(5), 339-343.
Möller, K., Schaffer, U. y Verbeeten, F. (2020). Digitalization in management accounting and control: an editorial. Journal of Management Control, 31, 1-8.
North, K., Aramburu, N. y Lorenzo, O. (2020). Digitally enabled growth in SMEs: a framework proposal. Journal of Enterprise Information Management, 33, 238-262.
North, K., Bergstermann, M. y Hardwig, T. (2016). Learning to Grow - a methodology to sustain growth capabilities of SMEs. En: Competitive Strategies for Small and Medium Enterprises: Developing Resilience, Agility and Innovation in Turbulent Times. Heidelberg: Springer, 223-236.
Pavlou, P. y El Sawy, O. (2011). Understanding the elusive black box of dynamic capabilities. Desicion Science, 42, 239-273.
Porporato Daher, G. (2018). Shared service centre (SSC)–analysis of factors that influence standardisation. A business model for multinational companies. International Journal of Scientific Research and Innovative Technology, 5(8), 105-126.
Quattrone, P. (2016). Management accounting goes digital: Will the move make it wiser? Management Accounting Research, 31, 118-122.
Raymond, L. y Uwizeyemungu, S. (2007). A profile of ERP adoption in manufacturing SMEs. Journal of Enterprise Information Management, 20(4), 487-502.
Richter, P. (2021). Shared services: configurations, dynamics and performnace. Baltic journal of management,1.746.
Rom, A. y Rohde, C. (2007). Management accounting and integrated information systems: A literature review. International Journal of Accounting Information Systems, 8(1), 40-68.
Ross, J., Beath, C. y Sebastian, I. (2017). How to develop a great digital strategy. MIT Sloan Management Review, 58(2-7).
Sage. (2021). Sage. https://www.sage.com/es-es/erp/
Seal, W. y Herbert, I. (2013). Shared service centres and the role of the finance function. Journal of Accounting and organizational change, 9(2), 188-205.
Sledgianowski, D., Tafti, M. y Kierstead, J. (2008). SME ERP system sourcing strategies: a case study. Industrial Management & Data Systems, 108(4), 421-436.
Snider, B., Silveira, G. y Balakrishnan, J. (2009). ERP implementation at SMEs: analysis of five Canadian cases. International Journal of Operations & Production Management, 29(1), 4-29.
Sorin, G. y Ancillo, A. (2021). Spanish SMEs' digitalization enablers: E-Receipt applications to the offline retail market, Technological Forecasting and Social Change. Technological Forecasting and Social Change, 162.
Su, N., Akkiraju, R., Nayak, N. y Goodwin, R. (2009). Shared Services Transformation: Conceptualization and Valuation from the Perspective of Real Options. Decision Sciences, 40(3), 381-402.
Teece, D. (2018). Business models and dyna-mic capabilities. Long Range Planning, 51, 40-49.
Teittinen, H., Pellinen, J. y Järvenpää, M. (2013). ERP in action - Challenges and benefits for management control in SME context. International Journal of Accounting Information Systems, 14, 278-296.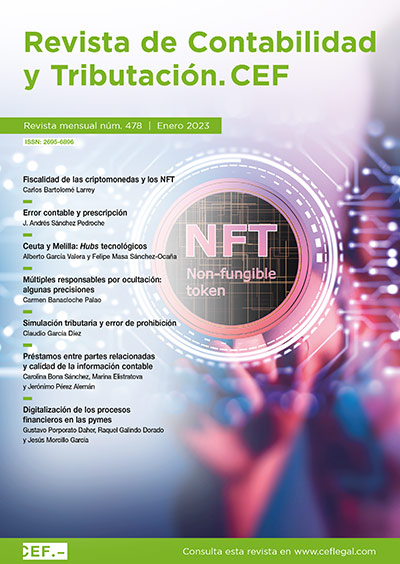 Descargas
Publicado
05-01-2023 — Actualizado el 02-02-2023
Cómo citar
Porporato Daher, G., Galindo Dorado, R., & Morcillo García, J. (2023). Digitalización de los procesos contables y administrativos en las pymes españolas. Un caso de estudio. Revista De Contabilidad Y Tributación. CEF, (478), 165–194. https://doi.org/10.51302/rcyt.2023.11465 (Original work published 5 de enero de 2023)
Sección
Estudios de contabilidad
Licencia